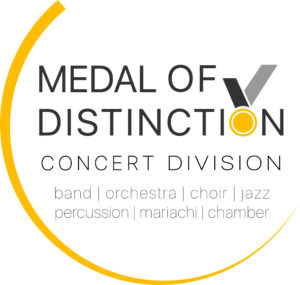 Global Initiative for Talented Students (GIFTS) in association with Perform America – TX, LLC is excited to offer a new educational opportunity for middle and high school band, choir and orchestra programs. Introducing Medal of Distinction, a unique recording submission process designed to celebrate excellence in performance while simultaneously offering practical and exciting opportunities of growth for both students and directors. All participants will have access to a wealth of knowledge from evaluators with a variety of musical backgrounds. The Medal of Distinction program serves as a means to bring together a community of musicians and educators striving to better themselves, their programs and the art of music-making.
Ensemble recordings are evaluated in two rounds by judging panels composed of nationally recognized educators and conductors. After the initial listening in the 'Premier Performance' round, the top performing ensembles are advanced to the Encore Circle for an "encore" listening and will be listed as 'Encore Circle Winners' ensembles.  The top ensembles in this group will be listed as the 'Maestro's Circle National Winners' and the opportunity to have a Medal of Distinction evaluator make a personal visit to their program for a clinic. This in-person interaction with a master teacher is what makes Medal of Distinction a truly educational experience!*
*Some ensembles have one evaluator, but will still have the opportunity to receive a visit from the evaluator based on availability!  International Ensembles if participating can earn recognition in the Encore Circle or as National Winner in the Maestro's Circle, but are not eligible for an in person clinic at this time.
REGISTRATION BEGINS May 1, 2023
2023 Medal of Distinction Evaluators
Who can enter?
Medal of Distinction is open to all Non-Varsity and Varsity ensembles:
National Youth Wind Ensemble of Distinction
Middle School Concert Band
High School Concert Band
University Ensemble
Youth / Community Ensemble
International Ensembles in above categories including Elementary and University*
National Youth Choir of Distinction
Middle School Treble Choir
High School Mixed Choir
Children's / Boy's Choir
Middle School Open – any type of choral ensemble
High School Open – any type of choral ensemble
University Choir
Community Choir
International Ensembles in above categories*
National Youth Orchestra of Distinction
Middle School Full Orchestra
Middle School String Orchestra
High School Full Orchestra
High School String Orchestra
Youth / Community Orchestra
University Ensemble
International Ensembles in above categories*
National Youth Jazz Ensemble of Distinction
Middle School Jazz Ensemble
High School Jazz Ensemble
International Ensembles in above categories*
National Youth Mariachi of Distinction
Middle School Mariachi Ensemble
High School Mariachi Ensemble
International Ensembles in above categories*
National Youth Chamber Wind Ensemble of Distinction
High School Chamber Winds
College/University Chamber Winds
Community Chamber Winds
International Chamber Winds in above categories*
National Youth Percussion Ensemble of Distinction
Middle School Percussion Ensemble
High School Percussion Ensemble
International Ensembles in above categories*
*INTERNATIONAL Ensembles if participating can earn recognition in the Encore Circle or as a National Winner in the Maestro's Circle, but are not eligible for an in person clinic at this time.*